Bellbowrie
Suburb in Queensland
Description
Bellbowrie is a suburb in the City of Brisbane, Queensland, Australia. In the 2016 census Bellbowrie had a population of 5,462 people. Bellbowrie is on the northern side of the Brisbane River and lies 17 kilometres west-southwest of Brisbane's city centre.
Area: 5.7 km²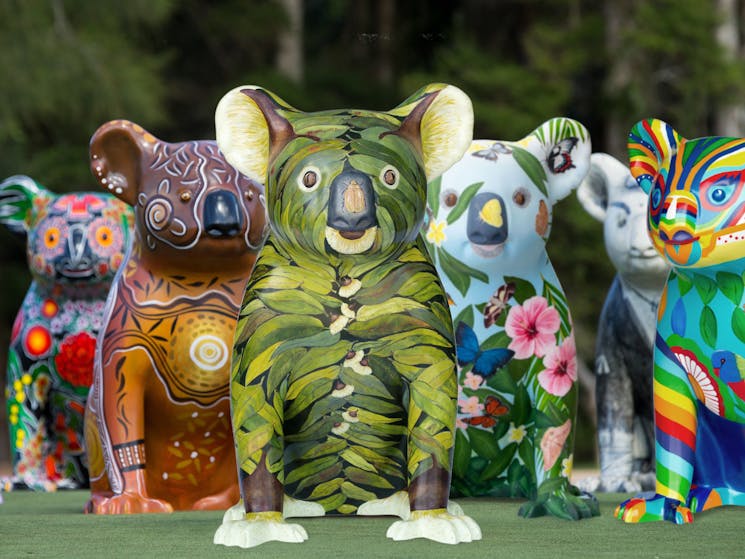 Hello Koalas Sculpture Trail
Port Macquarie NSW 2444 Australia
Hello Koalas Sculpture Trail
Overview
The award-winning Hello Koalas Sculpture Trail encompasses 80 one-metre high fibreglass koala sculptures, featuring original hand-painted designs, many by local artists.
Sculptures are displayed across Port Macquarie in a Trail that leads people to discover interesting places from the mountains to the sea.
Hello Koalas sculptures can be found lazing in parks, sitting under a tree, on display at a museum and relaxing by a cafe or restaurant.
You can also see Hello Koalas sculptures at the Glasshouse Arts and Visitor Centre, Sea Acres Rainforest Centre, Panthers Club, Settlement City Shopping Centre and Taree, Kempsey, Coffs Harbour.
The Trail is a free permanent attraction that appeals to people of all ages. Often three generations can be seen exploring the Trail, taking photos and chatting about each Hello Koalas sculpture design, which celebrates our local heritage and vibrant arts scene, and importantly, reminds us about koala care and conservation.
Hello Koalas Sculpture Trail Memorabilia Shop has located two blocks from Settlement City Shopping Centre at Bellbowrie Business Park, Shop 16, 10 Bellbowrie Street.
Shop for unique memorabilia and gifts and say hello to some special Hello Koalas sculptures like 'Frankie Firefighter' who celebrates the bravery and commitment of our local firefighters.
The Hello Koalas online shop is also open 24/7.
Please also check the website for further information about the current locations of Hello Koalas sculptures.
Bellbowrie Pool
47 Birkin Road, Bellbowrie, QLD, 4070
Disabled access/facilities/Heated pool/Kiosk/Water play
Located on Birkin Road, Bellbowrie Pool offers opportunities for recreational and lap swimming, water exercise and swim lessons. There is a 50 metre outdoor pool (not heated) with eight lanes, as well as a 25 metre heated, covered pool.
Other Bellbowrie Pool features include a cafe, good shade, room for kids to run around, summer wading pool and splash water play pad with drop bucket.
This pool has reduced opening hours outside of the summer season. Please contact the venue directly for winter closure information.