Ballina
Town in New South Wales
Description
Ballina is a town in the Northern Rivers region of New South Wales, Australia, and the seat of the Ballina Shire local government area. Ballina's urban population at June 2018 was 26,381. The town lies on the Richmond River and serves as a gateway to Byron Bay.
Top 10 Things to do in Ballina
Ballina may be far lesser known than its sister, Byron Bay, just up the coast. However, it is a nice place to visit in its own right. There are quite a few things to do in Ballina which make it worth either a trip in its own right or it can easily be visited on a day trip from Byron Bay. It also makes for a more affordable alternative to staying in Byron Bay where prices are high. Ballina also has less traffic and we never had to pay for parking!
Below you will find our top 10 list of what to do in Ballina NSW.
Top 10 things to do in Ballina NSW
Big Prawn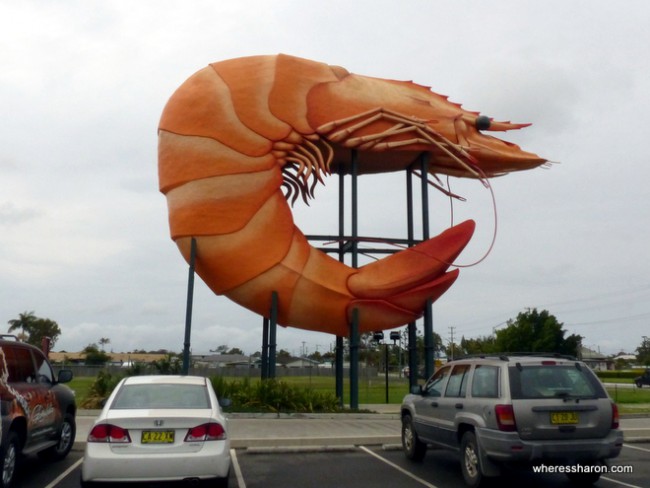 If you are a fan of visiting Australia's "big" attractions or you just like whacky and random sites then you are going to want to visit the big prawn in Ballina. This big prawn next to a Bunnings car park looks out of place but I guess that's part of the appeal! Interstingly, Bunnings actually paid $400,000 to renovate and add a tail to the prawn a few years ago.
Ballina Pool and Waterslide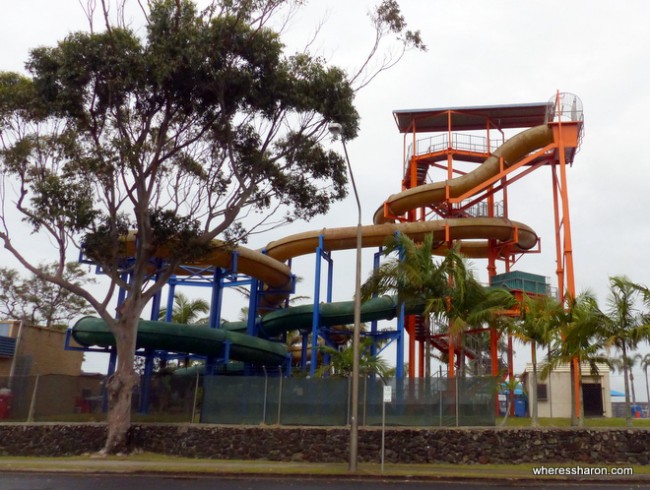 One of the fun things to do in Ballina with kids (or if you want to cool down!) is to visit the Ballina Memorial Olympic Pool and Waterslide. There are a couple of waterslides as well as three pools including a toddler pool. There is a large lawn area with picnic tables and a kiosk.
Find more information here.https://50c5f30f1d0fea4bd2026371af7ecfad.safeframe.googlesyndication.com/safeframe/1-0-38/html/container.html
Thursday Plantation
Thursday Plantation is home to the tea tree company by the same name which manufactures products such as tea tree and eucalyptus oil, face cream and beauty products. It is also home to one of Ballina's tourist attractions with an education centre with interactive displays about tea tree production.
There's also a cafe, rainforest botanical gardens, a tea tree maze and, of course, a shop where you can purchase their products.
Find more information on their website.
Go to a market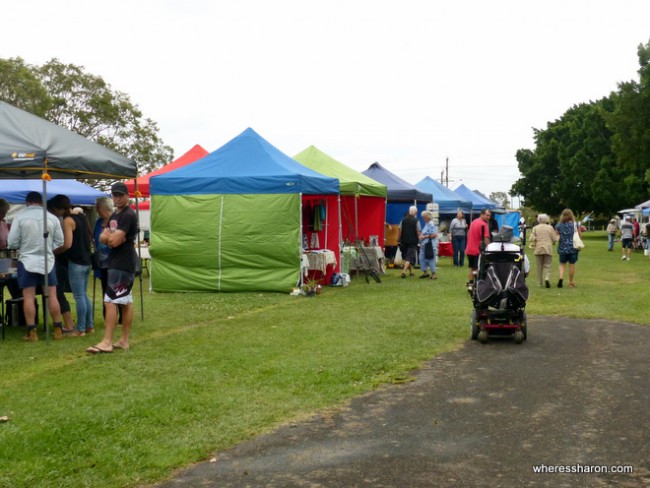 The Ballina area is famous for its regional markets ranging from farmers markets to more broad markets which sell everything from fruit and vege to arts and crafts to designs from local fashion designers. Many of them run only once a month and it's worth checking out the latest schedule to see which markets are happening during your visit.
We went to the Ballina Market which is held every third sunday of the month on Canal Road. It is known for its mix of traditional and modern products. It is on the small side but we did enjoy the food and live music.
Here's a handy list of the markets that take place regularly.
Shelley Beach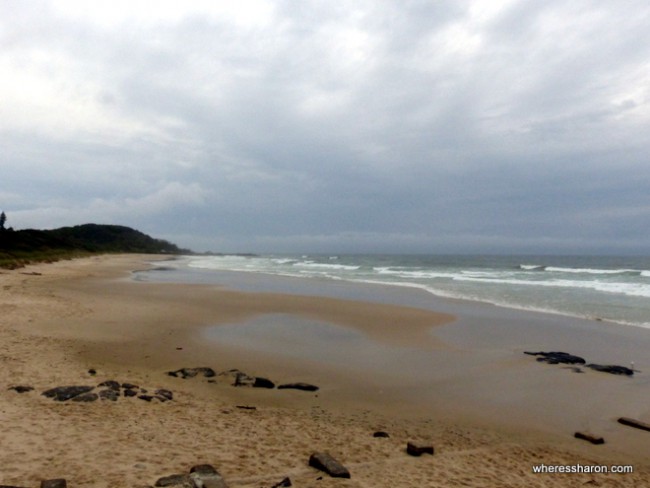 A Ballina things to do list would not be complete without a beach! There are many options near Ballina. We visited Shelley Beach which is a beautiful, wide beach with white sand. There is also a rock pool area which kids were exploring and lifeguard patrols. There's also the option to go surfing in Ballina.
Ballina Naval and Maritime Museum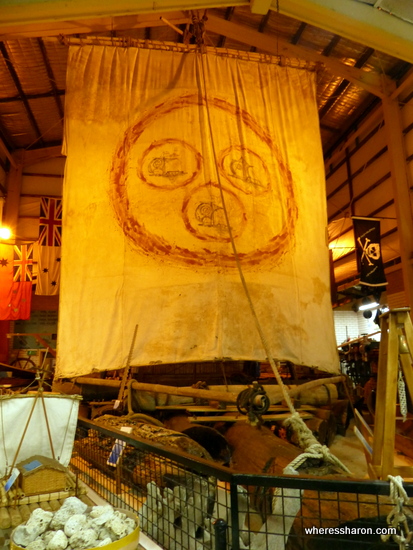 We only found out about this museum accidentally and it became my pick of the best thing to do in Ballina. This informative museum is full of treasures including one top class one. In fact, after visiting a similar ship that is a well known attraction at Oslo's Kon-Tiki Museum, I am surprised that I didn't already know about this museum.
The Ballina Naval and Maritime Museum is home to one of the Las Balsas rafts. This is from a group that set out from Ecuador in 1973 on basic rafts to prove that people could have sailed right across the Pacific many years ago on purpose. The group succeeded landing in Ballina 6 months after they took off.
It's great to see one of the actual boats that made the journey. It really makes their feat seem amazing and I have great admiration for anyone who would choose to spend six months on what is little more than a wooden raft in possible scary conditions. It wasn't just me who found it amazing either. Miss 6 also was amazed. There is a video about the voyage playing as well which helped to make it more real.
There is plenty more to this museum as well as it illustrates Australia's naval history. I particular found the information about events in Australia during WWII interesting. There's also many model boats that Mr 4 would have loved had he been with us.https://50c5f30f1d0fea4bd2026371af7ecfad.safeframe.googlesyndication.com/safeframe/1-0-38/html/container.html
There is a ton of information in this museum and I think you could easily spend a couple of hours here.
Ticket prices were $5 for adults and $2 for kids when we visited. More information here.
Summerland House Farm
Summerland House Farm is one of the top things to do around Ballina with many activities situated on a working macadamia and avocado farm.
There is the avocado and macademia farms themselves which can be visited on a 30 minute tractor tour, a museum, nursery and cafe. If you are looking for things to do in Ballina for kids, there is also the chance to play mini golf, a water spray park and playground and special school holiday activities.
More information on their website.
Visit Byron Bay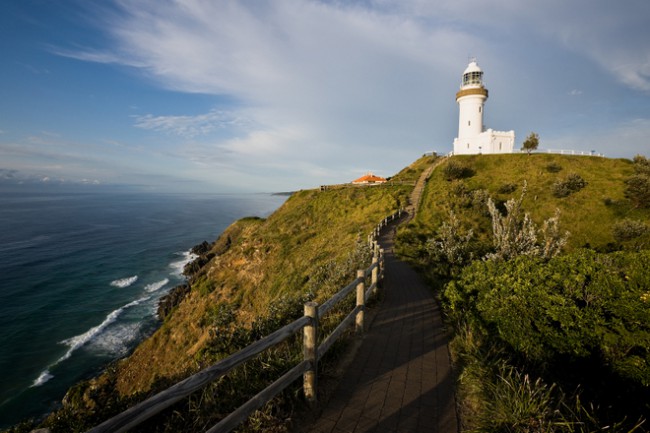 Famous Byron Bay is just a half hour drive from Ballina so it is easy to visit on a day trip. You can walk up to the famous Cape Byron Lighthouse, go to the beach, do some shopping and visit The Farm Byron Bay.
Amaze n Place
Another of the things to do near Ballina is to visit Amaze n Place which is home to the "loving lattice labyrinth". This maze is built with over 9000 trees! You can complete the maze, play a game or take a stroll – it is wheelchair and and stroller friendly.
There are also puzzles and jigsaws to play with suitable for toddlers up to people who like a big challenge. There is also a shop and a cafe.
Please note that this attraction is only open during school holidays. Find more information here.
Killen Falls
These pretty waterfalls are just a ten minute drive from Ballina and have the bonus that you can literally walk underneath them. There is a short track to reach the falls.