Ballarat
City in Victoria
Description
Ballarat is a city in the Central Highlands of Victoria, Australia. In 2020, Ballarat had a population of 109,553, making it the third-largest city in Victoria. Within months of Victoria separating from the colony of New South Wales in 1851, gold was discovered near Ballarat, sparking the Victorian gold rush.
Top-Rated Attractions in Ballarat, Bendigo & the Macedon Ranges
Known as one of the richest goldfields on earth, Ballarat, Bendigo, and the Macedon Ranges still harbor treasures in more ways than one. With a vibrant arts culture, historic buildings lining wide leafy streets, and more award-winning country restaurants than any other area of Victoria, the region is a hot spot for tourists, especially history buffs and foodies.
When the Gold Rush started in 1851, thousands of prospectors came here to make their fortune. Today, gold is still mined and the region attracts thousands of visitors every year. Both Ballarat and Bendigo make a great base to explore the region. From mine experiences and fantastic art galleries and museums to historic architecture and natural attractions like Lal Lal Falls, you'll find plenty of things to do. Foodies can feast their way around the region's fabulous restaurants and artisan foods.
Although this is a four-seasons destination, autumn is considered prime time, when the region is ablaze with vibrant reds, yellows, and oranges. For ideas on the best places to visit, see our list of the top tourist attractions in Ballarat, Bendigo, and the Macedon Ranges.
Ballarat
As Victoria's largest inland city, Ballarat is of significant importance historically, commercially, and culturally. Sovereign Hill is a great place to kick off a Ballarat tour and learn about the region's rich gold mining history.
In town, the elegant facades of the many historic buildings are also reminiscent of the gold rush days. The older part of town centers on Lydiard Street with the magnificent Her Majesty's Theatre, one of Australia's oldest surviving theaters; Ballarat Fine Art Gallery, featuring works from the gold rush artists; and historic churches. The visitor center (also in Lydiard Street) has a brochure and map for a rewarding heritage walk, which explains the history of each building, and is one of the best free things to do in Ballarat.
On the banks of Lake Wendouree, the beautiful Botanical Gardens cover 40 hectares. The series of gardens, highlighted by a central conservatory, have been a part of Ballarat for more than 150 years and attract garden lovers from all over the world. Families and animal lovers will enjoy mingling with native animals at the Ballarat Wildlife Park.
If you're based in Melbourne, a convenient way to explore the top sights of Ballarat is on the Ballarat and Sovereign Hill Day Tour from Melbourne, which includes an optional stop at the Ballarat Wildlife Park.
Sovereign Hill, Ballarat
Set on an original mine site, Sovereign Hill is more than a living museum, it transports you right back to 1851. Here, you can experience the gold rush days through daily demonstrations, workshops, museums, mine adventures, and multi-media displays.
During the day, wander the quaint shops of Main Street mingling with actors dressed in period costume, explore the underground mine, ride the horse-drawn coach tour through the township, or strike it rich panning for gold in the river.
At night, a spectacular sound and light show tells the story of the 1854 Eureka Uprising, an important part of Australian history. As a multi award-winning attraction, Sovereign Hill is considered one of the best authentic historical experiences in Australia.
Address: Bradshaw Street, BallaratOfficial site: http://www.sovereignhill.com.au
Bendigo
One of Victoria's largest regional towns, Bendigo buzzes with cultural attractions and lively cafes and restaurants. Grand European-style architecture with a distinctly Australian feel, wide tree-lined boulevards, and an abundance of art galleries and churches make for a surprise at every turn.
For a taste of Bendigo's gold mining history, sign up for a subterranean adventure at the Central Deborah Gold Mine. Bendigo also has a rich Chinese history. The heritage-listed Bendigo Chinese Joss House is a reminder of the important role Chinese immigrants played in the gold rush, and the excellent Golden Dragon Museum also explores this history with fascinating exhibits of Chinese art and cultural artifacts.
Art and architecture lovers will also find plenty of things to see. One of Australia's largest and oldest regional art galleries, the Bendigo Art Gallery often hosts world-class exhibitions in addition to its superb collection of European and Australian paintings, including contemporary Australian works. Bendigo Pottery is Australia's oldest working pottery and a great place to pick up a unique gift, and the magnificent Sacred Heart Cathedral is the most recognized landmark in Bendigo and one of the largest churches in Australia.
Family-friendly Bendigo attractions include the Discovery Science & Technology Centre, with more than 100 kid-friendly interactive exhibits, and peaceful Rosalind Park, a prime spot for a picnic or a relaxing walk in the heart of the city. You can also enjoy a stroll around bird-rich Lake Weeroona.
A great way to explore many of these attractions is on a Bendigo Tramways tour, a narrated hop-on, hop-off journey through the city.
Mount Macedon & Hanging Rock Reserve
About an hour's drive northwest of Melbourne, the town of Mount Macedon nestles at the base of its namesake mountain and was a popular escape from the summer heat for Melbourne's well-to-do after the gold rush.
Today, nature lovers and green thumbs will find plenty of things to see and do in the area. A favorite activity is hiking the trails at Hanging Rock Reserve. About a 15-minute drive from town, this beautiful slice of nature with volcanic rock columns was the setting for the classic Aussie film, Picnic at Hanging Rock, based on the book by Joan Lindsay. And yes, you can enjoy a picnic here, too.
Mount Macedon's gorgeous gardens are another highlight. Forest Glade Gardens features English, Japanese, woodland, and fern gardens, and Tieve Tara encompasses 7.5 acres of lush plantings, lakes, and lawns.
For spectacular views across the Dandenong Ranges and beyond to Melbourne's distant skyscrapers, head to Macedon Regional Park and hike up to the lookout on the slopes of 1,000-meter-high Mount Macedon (known as Geburrh by the local Wurundjeri people). The Mount Macedon War Memorial Cross here commemorates those who fought in all the wars. Nearby Camels Hump is the mountain's highest point, and you can hike to it in less than 20 minutes from the parking lot. Other fun things to do in the park include scenic drives, bushwalking trails, and wildlife spotting.
Bendigo Tramways
Bendigo Tramways offers a wonderful nostalgic and time-efficient way to explore the city and its rich history. An 8.4-kilometer round-trip takes in the best of historic Bendigo aboard highly decorated vintage "talking trams." The hop-on, hop-off journeys can be extended over two days on the one ticket so you can spend time at each attraction.
Highlights along the way include the Central Deborah Gold Mine, Rosalind Park, Bendigo Art Gallery, the Golden Dragon Museum, and the Discovery Science & Technology Centre. You can also stop off at some of the city's top restaurants.
Specialty tours include the Anzac Centenary Tram, which focuses on the city's World War I history, and the Dja Dja Warrung Tram, which sheds light on the culture of the city's first people.
Address: 1 Tramways Ave, Bendigo, Victoria
Maldon
About 40 kilometers southwest of Bendigo, quaint Maldon offers a small-town taste of the gold rush era. Surrounded by hills and a forested landscape, its Main Street is lined with perfectly preserved 19th-century buildings housing an eclectic assortment of antique shops, cafés, restaurants, and galleries.
Protected by the National Trust, Maldon was named Australia's first "notable town," and you can take a walking tour to appreciate its rich history. Highlights among the town's historic buildings include the Grand Hotel (1888), the post office (1870), and the Maldon Railway Station (1884). Foodies can follow the Maldon Taste of Gold trail to sample some of the town's artisan delights.
For the best views of the area, head to the top of Anzac Hill, or drive up to the lookout of Mt. Tarrangower, and if you're a music lover and have a chance to visit in the spring, the Maldon Folk Festival is a popular event featuring folk music, theater, and dance.
A fun way to travel here is aboard a restored steam train, courtesy of Victorian Goldfields Railway. The train chugs along the beautiful 18-kilometer journey between Maldon and Castlemaine most weekends and on Wednesdays.
Castlemaine
In the heart of the goldfields, Castlemaine is another beautifully restored village. With wide streets and narrow laneways, the small town is popular with art, garden, and food lovers. Several excellent, organic food cafés serve seasonal local cuisine, and you'll also find antiquarian bookshops sprinkled around town.
Over the past few years, a niche market in original one-off clothing shops has sprung up along Mostyn Street, and the Restorer's Barn is a goldmine for anyone interested in antiques and building materials.
Nature lovers and families enjoy strolling around the picturesque walking paths at the Castlemaine Botanical Gardens, and kids will love the playground. After a visit here, stop by the Mill Castlemaine, opposite the gardens, where you can purchase a treat from the Viennese cafe, enjoy a fresh-brewed coffee, and shop for antiques and vintage treasures all under one roof.
Other popular things to do include browsing the Castlemaine Art Museum, which spotlights Australian artists, and touring the Buda Historic Home and Garden, filled with art and antiques and surrounded by lovely heritage gardens. The nearby tiny village of Clunes is the place where gold was first discovered in Victoria in 1851, and its heritage streetscape is worth a look if you have time.
To arrive in Castlemaine in a style befitting the town's history, hop aboard a Victorian Goldfields Railway heritage steam train from Maldon.
Daylesford
Nestled on the edge of the Wombat State Forest, Daylesford is a gold town with a difference. Swiss and Italian immigrants settled here during the gold rush not only for the gold, but also the water. Together with twin town Hepburn Springs, Daylesford is the spa capital of Australia. Mineral springs complete with hand pumps are dotted throughout the area. You'll also find many wellness retreats specializing in spa treatments, and the superbly located, state-of-the-art Hepburn Bathhouse & Spa has welcomed visitors since 1895.
Walking "peace mile," the designated trail around Lake Daylesford, is a daily ritual for many locals, and the town's award-winning restaurants serve creatively prepared local produce. On the water's edge, the elegant Lake House is Victoria's most celebrated country house. Just over an hour from Melbourne, Daylesford is one of the popular weekend getaways from Melbourne.
Lal Lal Falls
About a 30-minute drive from Ballarat, Lal Lal Falls, meaning "dashing of waters," is a spiritually significant site in Aboriginal history. Best visited after strong rains, the falls sit majestically among a series of gorges with an easily accessible viewing platform. Walking trails link throughout the reserve. Another highlight is the unique preserved blast furnace, a relic of 19th-century industrialism that centered on the manufacturing of bricks, pottery, china, and paper in the area. This is a popular stop on road trips from Ballarat.
10. Lavandula Swiss Italian Farm
About a 15-minute drive north of Daylesford, Lavandula is a touch of Europe in an Australian landscape. The heady scent of lavender fields surrounds the ancient stone buildings, and the working farm is a perfect spot for a lazy afternoon. La Trattoria Café caters to indoor or outdoor casual dining and features a wood-fired oven. During summer, you can see the lavender being harvested by hand using traditional sickles, and the shop has a range of excellent body products made from lavender oil distilled on the property.
Address: 350 Hepburn-Newstead Road, Shepherds Flat, Victoria
Official site: https://www.lavandula.com.au/
Kyneton
About a 30-minute drive from Daylesford, Kyneton offers tourists a taste of history, health-giving mineral springs, gourmet food, arts, and nature. Historic Piper Street is lined with authentic, beautifully preserved buildings housing a collection of galleries, restaurants, and original shops. Don't miss the lively farmers market if you happen to visit on the second Saturday morning of each month.
Day spas, gourmet restaurants, and organic cafes are other popular places to visit, and nature lovers will enjoy the Campaspe River Walk, which threads through the Botanical Gardens and several historic country properties. The bushwalking trails in Blackhill Reserve offer another popular escape to nature, and the cascades of Turpins Falls are also worth a visit after good rains.
Like the nearby towns of Daylesford and Hepburn Springs, Kyneton is also home to natural underground springs, and you can fill up your bottle with the mineral-rich water for free at the hand pump in Kyneton Mineral Springs Reserve.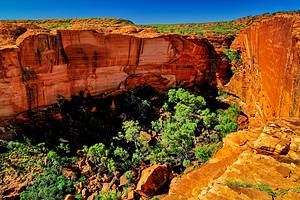 Australia Highlights: Some of the destinations listed above can be done as a day trip from Melbourne. For more ideas on where to go and what to see in Australia, have a read through our article on the Top Attractions in Australia. This offers a great overview of the highlights around the country. Interested in getting outside? Don't miss our piece on the Top Outdoor Adventures in Australia and our list of Best Hikes in Australia.