Balaklava
Description
The town of Balaklava is located in South Australia, 92 kilometres north of Adelaide in the Mid North region. It is on the south bank of the Wakefield River, 25 kilometres east of Port Wakefield.
Our cultural journey is well-documented by the rich historical displays and facilities, while visitors and locals alike can enjoy being active and seeing the sights on a number of trails and natural attractions.
BALAKLAVA FOLK MUSEUM
Balaklava Museum, owned by Wakefield Regional Council and currently operating on two sites; at Centenary Hall in May Terrace and Urlwin Park in Short Terrace.
Members of the Balaklava Museum Inc set up and maintain displays, restore items, maintain the buildings and grounds and act as volunteer guides.
Balaklava Museum is open on the second and fourth Sunday of each month, 2.30 – 4pm, and other times – for group visits – by appointment.
Guided town history tours are available, namely for bus tours, and visitors can also obtain brochures for the museum and town walk and self drive tours, as well as the Heartlands Heritage Trail.
or further enquiries, phone Roy and Norma Schopp on 8862 1854, 8862 1249 or email rnschopp@rbe.net.au.
BALAKLAVA COURTHOUSE GALLERY
Located on Edith Terrace, the Balaklava Courthouse Gallery features local art and craft displays and exhibitions.
LIONS CLUB WALKING TRAIL
There is an attractive walk along the banks of the Wakefield River which has been organised and signposted by the local Lions Club.
SHAMUS LIPTROT CYCLING TRAIL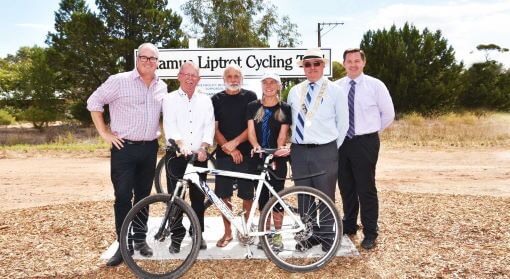 An 11km cycling/walking trail starting towards the outskirts of town, passing the golf course and travelling to the nearby township of Halbury.
Named in memory of local cyclist, Shamus Liptrot.
THE ROCKS RESERVE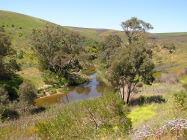 Located east of Balaklava, the Rocks Reserve is a pleasant 11.5 hectare picnic and walking destination on the banks of the Wakefield River.
It takes its name from the attractive rock formations which have been created by the river.
Guided Self Tours of Our Town
Explore the features of our town either on foot or in a vehicle with our self-guided tours. Click to download the Walk Tour or Drive Tour
Nature Play Playground and Skate Park
The Nature Play Playground and Skate Park are ideally located in Apex Park near public toilet facilities, offering ample shaded parking for families to get out and about, stretch the legs and enjoy the creatively designed nature play playground, which also offers a sensory experience and musical play equipment for children of all ages. The skate park is closely located to both nature play and traditional playgrounds, which means you can keep an eye on the whole family no matter what element of Apex Park they're enjoying.